Myths About Root Canal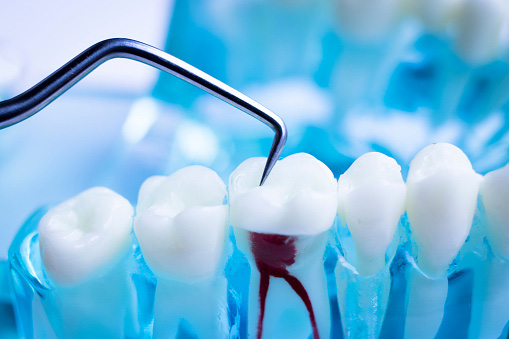 A majority of patients dread the idea that root canal therapy is going to be needed. In many cases, we even hear of patients choosing to ignore pain until it reaches a point where they can no longer ignore it. The reality is, most fears around root canal treatment have been exacerbated in our thinking and there are a lot of myths surrounding it. At Peak Endodontics, we hope to provide the education and treatment options to put you at ease while increasing your oral health.

Some common questions and misconceptions about root canal therapy include:


Is a root canal really necessary?

A common question concerns the necessity of root canal therapy. The inner pulp of a tooth can become infected when bacteria makes its way in. Bacteria can travel through a cavity formed by decay, through a crack or fracture in the tooth, between a filling and the enamel, or even in the roots from one tooth to another. If the pulp becomes infected, the only way to save the tooth and possibly neighboring teeth, is through root canal therapy. The pulp of the tooth is incapable of fighting the infection. Without treatment, the tooth will die and possibly cause larger damage to the bone and surrounding teeth.


Why are root canals painful?

Many patients express fear of root canal therapy thinking it will be painful. There is nothing that we do in treatment that should cause any pain. The reality is that the pain, or infection, is already present, though exposing the infection can induce a pain result. We combat this by administering a pain reliever through a local anesthetic, and have conscious sedation options available if needed. As we remove the infected material, the pain will improve. Additionally, your local anesthetic should provide continued relief for a couple of hours post treatment.


Is it true that root canal therapy can fail?

To better understand why failure can happen, we need to explain the treatment. The root of your tooth contains a large area where the pulp, nerve, and other tissue is contained along with two main canals. In addition to the two main canals, there are tiny chambers, much like a plant root system, that extend and possibly make contact with neighboring tooth root chambers. Treatment includes going into the main chamber and clearing all of the material, infected or not, and then washing the chamber with an antibiotic and filling it with a medicated material. We work hard to get all of the infected material, unfortunately, bacteria can be tricky. Bacteria can be missed as diligently as we try, or it can remain in tiny chambers that extend from the main canal. It may be rare, but sometimes root canal therapy can fail or even lead to infection of neighboring canals.


Is a dental crown necessary following root canal therapy?

Root canal therapy is traumatic to the tooth. We remove the nerve and pulp of the tooth, so it no longer receives the nourishment to stay healthy. Between the removal of this material, and opening the space in the enamel to get to the pulp, the tooth will be severely weakened or compromised. We can greatly extend the life of the tooth by providing it with a shield, through the use of a dental crown. This is the recommended action in most cases following treatment, though we are happy to discuss options specific to your needs.