Endodontic Retreatment

Covington, WA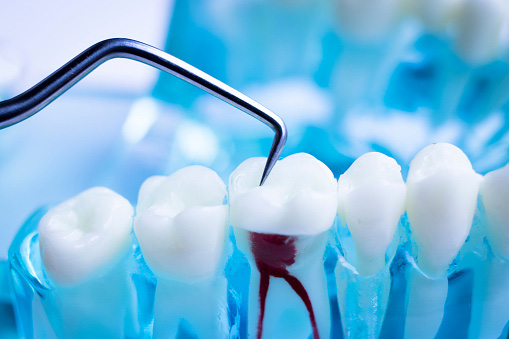 When one of your teeth develops an infection, a common treatment is root canal therapy. Root canal therapy is a highly effective treatment, with a very high rate of success. Successful root canals mean that your treated tooth goes on to function normally without being faced with any further complications. In some cases, however, treatment is not successful. Unsuccessful treatment allows a new infection to develop, which can lead to serious issues. If your root canal has failed, Peak Endodontics can help with root canal retreatment.


Root Canal Therapy

Root canal therapy is a treatment often performed to eliminate infection from inside of a tooth, restoring strength to the tooth as well as your oral health. The root canal also prevents the need for a tooth extraction, allowing the tooth to remain in its socket. The procedure is performed under a local anesthetic. After drilling a small hole in the top of the tooth, small tools are used to remove the infected pulp and nerve as well as shape and clean the canals. After the tooth is disinfected, it is filled with a special material, and a dental crown is placed on top. The crown helps to restore strength to the tooth while preventing a new infection.


Causes of Root Canal Failure

In most cases, a root canal is successful. The infection is eliminated, and the tooth can function normally. However, there are some instances in which a root canal can fail, resulting in a new infection. Causes of root canal failure include:

| | |
| --- | --- |
| • | Missing canals during your initial treatment. Narrow or curved canals may have gone untreated, meaning bacteria was left behind. |
| • | Complex canal anatomy. This can also result in some canals going untreated. |
| • | Contamination of the tooth. If saliva gets into the tooth during treatment, the interior could become contaminated. |
| • | Waiting too long to place the final crown. |
| • | Improper placement of the crown. |
How is Root Canal Retreatment Done?

When your root canal is successful, no further treatment is needed. However, if the root canal fails, retreatment is essential. Without treatment, your oral health, and whole-body health becomes compromised. One of the most common symptoms of a new infection inside of a tooth treated by a root canal is experiencing pain in the tooth.

Root canal retreatment generally takes three visits to complete. During the first visit, we place a rubber dam around the tooth, isolating it to prevent contamination. We remove the crown and the filling material inside of the tooth. Next, specialized tools are used to reshape the canals and clean out the interior of the tooth. We may take x-rays to ensure that we have properly cleaned all of the canals.

Next, depending upon your situation, a medicated filling may be placed inside of the tooth, and a temporary crown then placed. The medicated material is used to help kill any bacteria that might still be present. At the next appointment, the material is removed, and the tooth cleaned again. After the tooth is cleaned, new filling material and new filling are placed.

In most cases, a retreated tooth can go on to function normally for many years, even a lifetime. Retreatment is always preferred over extraction, as retreating the tooth allows it to stay in the socket and avoids the need for a tooth replacement.

At the first signs of root canal failure, it is imperative that you seek treatment immediately. Call Peak Endodontics at 425-358-9033 to schedule your consultation today.